Biological Inoculant - Acid Bog Type plants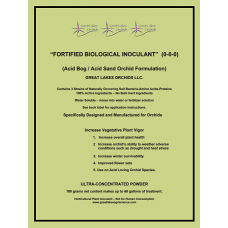 Brand:
Great Lakes Orchids
Product Code:
Biological Inoculant- Acid type orchids
Reward Points:
0
Availability:
In Stock
Price: $39.95
Ex Tax: $39.95
A Biological Inoculant for Acid loving plants and Orchids - Bogs and Acid sand plants.
Apply 4 times through out the growing season. Water soulble powder. Two year shelf life
Makes 60 gallons of treatment. Soil drench application...Instructions on back of package.
This is the first year we are making this product availiable to the public. In development since
2008 and manufactured at our own Tissue Culture Lab. 100 gram zip lock bag. Mix 1/2 level teaspoon per gallon.
Contains three strains of naturally occurring soil bacteria, specific amino acids, proteins, minerals, and calcium silicate
and select mycorrhizal spores.
Write a review
Your Name:
Your Review:
Note: HTML is not translated!
Rating:
Bad
Good
Enter the code in the box below: